Historic Lodgings & Event Rental in a Historic City
The Pomeroy
Guest Lodging / Houseshare
About The Pomeroy
Classic Meeting Space and Lodgings in Northampton, MA
My new adventure began in the latter part of 2017 when I found this gorgeous belle of a historic house (built in 1868) in eclectic, quirky, intelligent, funny (I could go on and on) Northampton. I still had my home in Colorado to sell, but it was love at first sight … a few months later, on February 27, 2018 to be exact, I closed on the Grande Belle and hurriedly met the movers to unload.
Close to downtown restaurants, shops, courthouse, grocery, The Pomeroy is a wonderful place to stay while conducting business, socializing, or riding the bike trails around New England. Many individuals regularly stay with me to visit their college kids, or come celebrate reunions, weddings, conferences, etc. Several individuals have stayed with me for nearly two weeks at a time while attending training programs downtown; they enjoyed having only a 5-minute walk each morning after sitting on my screened porch drinking coffee and perhaps chatting a bit or studying.
I also host civic and social meetings at The Pomeroy frequently. The dining room with bay window is light and airy; it serves as a pleasant small conference room with a window view of the specimen trees bursting in bloom sequentially all summer long.
So, if you need a charming place for a deposition, mediation, or other type of meeting, do come visit The Pomeroy to see if we would fit your needs. Catering for meetings is available. Out-of-town lawyers, litigants, witnesses could stay at The Pomeroy, making it extremely convenient for attendance at the deposition or meeting.
And, if you would like to have overnight accommodations for or family and friends, check out Penny Lane Junior Suite and Strawberry Fields, each with their attached, private, full baths.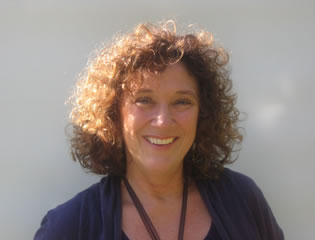 Looking for a charming place to host your DEPOSITIONS, MEDIATIONS, GRADUATIONS, REUNIONS and other LEGAL or SOCIAL MEETINGS in an 1868 Victorian home where the 1st Mayor of Northampton lived?
Do you want the meeting catered?
Do your parties, witnesses, other lawyers, friends need overnight accommodations in the same place where the meetings will be held?
Quiet, peaceful, beautiful space within 3 blocks of downtown and the Courthouse w/ ample free parking and WIFI. Owner on site to assist with presenter requirements (projector available, music, gas fireplace,) and to provide catered food, if needed. Please understand that any meeting rentals where food is desired must be arranged through me; that is, no outside food except water please.
Space rental only
full or half day
Dining Room with large table
Bay window
Parlor w/gas fireplace & piano
Space Rental plus Catering
from local restaurants/bakeries
Breakfast w/ coffee, or
Lunch w/ coffee/soft drinks, or
Beverages only (coffee/tea/seltzer)
Overnight Accommodations
One or two guest rooms in home (more info below)
Penny Lane (Junior Suite with Queen bed and Daybed, sleeps 3)
Strawberry Fields – (Antique Full bed, sleeps 2)
Contact Deb Henson for more information or to schedule a tour of the home in the new National Historic District.
Penny Lane Junior Suite
One of the two guest rooms on the second floor, Penny Lane has a queen bed as well as a single size daybed and private attached bathroom with large vanity and walk-in shower with bench. Windows face 3 different directions, so this room has plenty of light. Additionally, the suite has a dresser and hanging rod for those guests who want to unpack while in residence.
A/C and heat are controlled by Penny Lane guest with the benefit of the new mini-splits with back up heat by hot water radiators.
Check with Deb for lodging prices because they vary depending upon the season.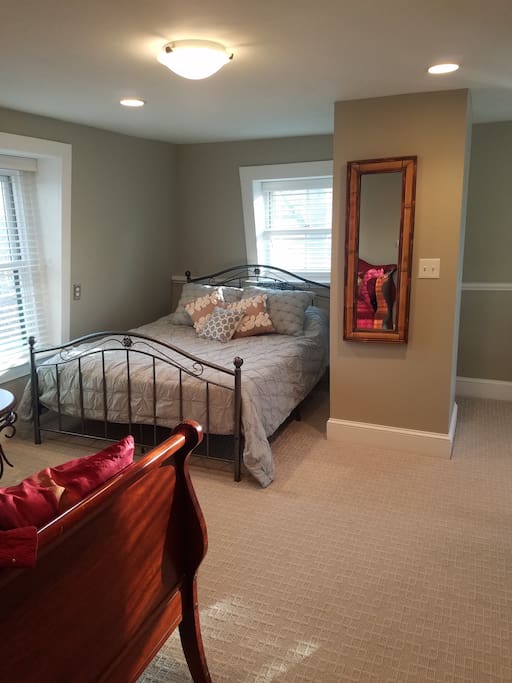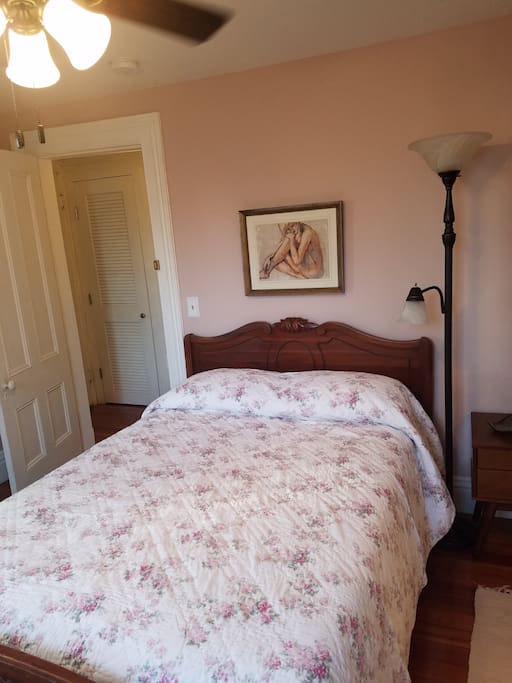 Strawberry Fields Guest Room
This is the other guest room on the second floor, which has an antique double bed, private attached full bath, full dresser and hanging rod, plus a table and chair in front of one of the large windows for those who need a table to work on while visiting.
A/C and heat are controlled by Penny Lane guest with the benefit of the new mini-splits with back up heat by hot water radiators.
Check with Deb for lodging prices because they vary depending upon the season.
Lucy in the Sky Penthouse
The top floor of an 1868 Victorian home in the new Pomeroy Terrace National Historic District of Northampton boasts a beautiful, spacious, sunny, 2-bedroom apartment (called a "houseshare" because there is no separate and distinct entrance). Three blocks to Downtown restaurants, shops, music venues galore, etc. Less than a mile to Smith College thru downtown.
Apartment has hard wood floors, arched windows, and so much light you may find yourself wearing sunglasses!! Apartment has a full kitchen with large pantry closet, a full bath (tub and shower), a separate living room, plus a large bedroom and another small bedroom/office. A/C and heat controlled by tenant with new mini-splits. Backup heat is hot water radiators.
This apartment is sometimes rented on a long-term basis, but if interested, please contact Deb. It would be a perfect place for visiting faculty, or someone who has relocated but is still looking for a house to buy, etc. It may be available from time to time.
Quick Info & Galleries
(click image for larger slideshow)
Bedroom Comforts
Each guest room has a sound machine for those who have a hard time sleeping away from home, boxed water for your stay, body soap plus shampoo, conditioner and hair dryer to get you ready to roll. Iron and board available upon request.
Free Parking
Don't worry about finding a place to park because The Pomeroy has plenty on site ( 4-6 spots and more if cars are "stacked") and street parking on Hancock Street adjacent to the property is always available.
Free WiFi
You can log on and have internet access during your meetings.
Coffee Service
I use a local coffee that is roasted right here in Northampton: Indigo coffee – organic, fair trade, Berkshire Blend roast.
Checking In and Out
Guests and event organizers must provide 50% payment in advance of your stay/event. I will meet guests/attendees upon check-in. You may check out (overnight guests) by dropping your keys in the mailbox when you leave if I am not available. Check in hours are flexible and I am also happy to offer you a ride from/to the bus or train station.
Front Entry / House "Rules"
Guests or event attendees enter through the main front door into the foyer pictured here. I ask that shoes be removed – you can bring your own slippers or I provide foot covers if you prefer not to go barefoot. I also ask that all food and drinks besides water (or clear drinks that won't stain!!) be consumed on the first floor common spaces – dining room, parlor or screened porch.
Cancellation Policy
Cancelations must be made one (1) week ahead of time for full refund.
Have a Question?
Talk to the Host
Beautiful place, attentive host, great location! Deb was welcoming and informative about the area. We'd definitely stay there again!
We enjoyed our stay at Deb's place. It is well-located and an easy walk to downtown. The room was clean and comfortable – especially the bed and smaller daybed (which was great for an afternoon nap). The bathroom was big and clean and the shower had great water pressure. Deb is a great and enthusiastic host who has created a great place for visitors. We will look to return on a future visit to the area.
Deb's place was absolutely perfect for our Pioneer Valley getaway. Northampton is the place to be, and Deb's place is perfectly located for all that the town has to offer. A quick walk to coffee shops, bars, and restaurants, and an easy drive to anything else you'd want to do. The inn is gorgeous, a historic building with every amenity. Everything we needed was there for us, and Deb was so easy and pleasant to communicate with. Can't recommend this place highly enough!
The Pomeroy Inn is a beautiful Victorian home, very conveniently located in a quiet neighborhood a couple blocks from downtown Northampton. Our hostess, Deb, was welcoming and interesting to talk to. Her dog, Joey, was well-behaved and we enjoyed meeting him. My wife and I would definitely stay again!
Deb's place has a charm and comfort that is lacking in other places we have rented. The common areas are homey, comfortable, and well-appointed, including a fireplace and screened-in porch.
A beautiful, historic home 2 blocks from the center of downtown Northhampton. The room has modern amenities, a very nice bathroom and was clean and well-supplied with extra linens. Deb was very accessible and thoughtful, from coffee in the morning to a text offering umbrellas one day when it was raining. We really appreciated being able to park the car at Deb's and then walking everywhere for the rest of the weekend.
Deb's place is immaculately clean and just a short, pleasant walk from downtown Northampton's restaurants and coffee shops. My favorite part was the sound cancelling machine by the very comfortable bed that played beautiful cricket songs through the night. Deb was very helpful in getting me settled and even carried my heavy suitcase from my car up the stairs to my room.
Deb is an amazing host. She does such a great job of giving you your space and also being around for anything you might need. Deb is very pleasant and did a wonderful job of setting up the space to be comfortable and pleasant. And the location is a quick and easy walk into town.
Visit Northampton in Comfort
Suites Available!
83 Pomeroy Terrace, Northampton, MA 01060